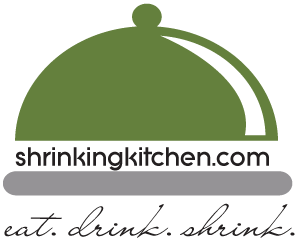 Welcome to Shrinking Kitchen! Pour a hot beverage (or cold, if you're lucky enough to be somewhere warm!) and pull up a chair. Make yourself at home. We're glad you're here!
Shrinking Kitchen is the cooking companion to The Sisterhood of the Shrinking Jeans. Over the last few years, The Sisterhood has become increasingly popular, and we noticed a lot of traffic comes into the site looking for recipes.  So basically, we're answering to the demands of our audience…
A site all about delicious AND healthy cooking and baking!
We are beyond excited to launch this site and we've got all sorts of fun, innovative features that we think you'll love and will make your life easier.
Let's take a little tour, shall we?
In the recipe posts, you'll notice that you can easily print the recipe directly from our site, or you can save the recipe. If you choose to save the recipe, you'll be taken to a fantastic site called Ziplist. Why is Ziplist so great? Well, it enables you to add a recipe directly to an online grocery list that you can either print or access via your smartphone. Seriously simple and no more forgetting one or two ingredients! And the grocery list is just the tip of the iceberg with this feature. Check it out; you will not be disappointed.
We're all about simplifying your life, so we've included an easy conversion chart, cooking dictionary and common food weight chart. We also have an easy to use recipe index with thumbnail photos for easy browsing.
All recipes are broken down into easy to navigate categories. Each recipe is printable and includes nutrition information.
Like Shrinking Jeans, we will have weekly features, starting out with the ever popular Menu Plan Your Butt Off. Join us as we plan our weekly dinners and maybe a dessert or two.
We're on Facebook. We're on Twitter. We're on Pinterest. Follow us so you don't miss one scrumptious thing!
Finally, if you've got a blog of your own, we'd be ever so grateful if you'd grab and display our badge. Pretty please?
Again, we're so glad you're here, and hope you check in often.
Cheers,
The Shrinking Kitchen Team