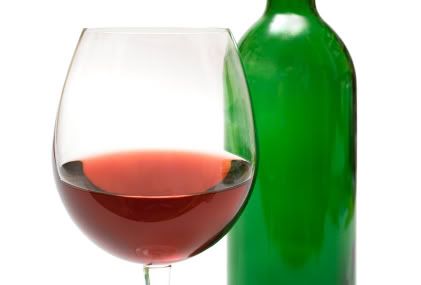 What's your poison?
Beer, water, wine? What do you choose when you feel like wetting your whistle?
Do you ever stop and consider just how many calories are in your adult beverage? Well maybe you should. Knowing what you are eating is important and what you are drinking is just as important. While we are trying to make better dietary choices lately, alcohol in no exception.
Sure alcohol without the added stuff is fat free and low in carbs, but you still have to count the calories! Here is a quick run down on calories and poisons.
Wine: Typically wine has about 20 calories per ounce. Who drinks only one ounce? Anyone? So it's safe to say that a 5 oz glass of wine will cost you about 100 calories. Another thing to take note of is that the darker the more carbs. For example:
Chardonnay (per 5 oz) 100 calories 2 g carbs
White Wine (per 5 oz) 100 calories 2 g carbs
Cabernet Sauvignon (per 5 oz) 100 calories 4 g carbs
Merlot (per 5 oz) 100 calories 4g of carbs
It all adds up in the end!
Hard liquor: Hard liquor is higher in calories per ounce than wine, and is often mixed with soda, which increases the calorie count. If you're going to drink liquor, use calorie-free mixers like diet soda or diet tonic water. One shot glass or mixed drink will contain about 1.5 ounces of hard liquor.
Vodka (per 1.5 oz) 104 calories 0 carbs
Gin (per 1.5 oz) 98 calories 0 carbs
Coconut Rum (per 1.5 oz) 77 calories 8 carbs
Tequila (per 1.5 oz) 104 calories 8 carbs
Beer: Here is where the calories can add up!
Light beer (12 oz) 108 calories 6 g carbs
Draft beer (12 oz) 144 calories 13.2 g carbs
Lager (12 oz) 168 calories 13.2 g carbs
Ale (12 oz) 216 calories 13.2 g carbs
So what isn't listed are all the varieties of mixed drinks. They are full of sugar, carbs and even more calories. Next time you pick your poison, be more aware of just what you are drinking. If you have more than one drink, don't forget to drink your water too!
**and as with any alcohol writing there is a disclaimer…
the legal drinking age is 21 and please don't drink and drive**
originally posted by Crooked Eyebrow on Shrinking Jeans.