Heather
Heather Damron is the Editor of Shrinking Kitchen, the sister site to the Sisterhood of the Shrinking Jeans, a fantastic online community dedicated to promoting healthier lifestyles through support, knowledge and humor. She lives with her husband, two children, dogs and cats in soggy Western Washington. A stay at home mom since 2009, Heather spends most of her days chasing children, maintaining a household and using the Internet to stay connected to the outside world. When she is not reading, trying to motivate herself to exercise, obsessing over Pinterest, teaching herself to sew or attempting to keep on top of her never ending 'to do' list, you'll find Heather in the kitchen. She loves to experiment with different flavors, scouring the web for interesting recipes and finding ways to lighten up unhealthy favorites. She is dedicated to raising healthy children with adventurous palates who make good choices about food.
heather@shrinkingkitchen.com :: @mama_sass :: pinning here
TOP 3 FOODS I CAN'T LIVE WITHOUT:
coffee (wait, that's not a food)
crisp tart apples (love Gala & Braeburn)
natural peanut butter
chocolate, the darker the better – my fave is super dark chocolate with sea salt
TOP 3 KITCHEN GADGETS:
stick blender
kitchen aid stand mixer
salad spinner
Melissa
Melissa Anderson is the Co-Founder of Shrinking Kitchen and the Sisterhood of the Shrinking Jeans, a kick-ass, support-driven weight loss and fitness blog. She has been married for a dozen years and is mother to four children (15,12, 8 and 8), with more soon coming her way through the foster care system. Melissa has a love/hate relationship with food (okay, mostly candy) and cooking. This isn't improved by the fact that her husband, the true family chef, works in another city half the year, leaving Melissa to figure out how to feed her growing family something other than Pop-Tarts. Melissa loves her camera, enjoys traveling, kickboxing, creating beautiful things she finds on Pinterest, and planning her dream home that will be built… someday.
melissa@shrinkingkitchen.com :: @lissajoy :: whereverimaywander.com :: pinning here
TOP 3 FOODS I CAN'T LIVE WITHOUT:
bell peppers of every color.
cheese.
homemade chex mix. candy. berries.
TOP 3 KITCHEN GADGETS:
my husband. he's a master in the kitchen, yo.
my aeropress. it makes damn-good coffee.
my egg-flipper spatula thing from OXO.. seriously. i love it.
Christy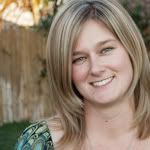 Christy Mensi is the Co-Founder of the Sisterhood of the Shrinking Jeans, a popular weight loss and fitness community blog. She is married with two great kids and lives a very rural life (read: no cell phone coverage at home!). Christy lost 50 pounds 6 years ago with Weight Watchers, and has triumphantly kept it off, even after having another child. Her family follows the Feingold diet, and Christy is serious about cutting over-processed foods from her family table. She truly believes that kid-friendly does not mean chicken nuggets and mac-n-cheese, and that kids can do a lot more in the kitchen than you think. When she's not working on the Shrinking sites, Christy enjoys cooking, reading vampire novels on her Nook, crocheting, photography, running, and obsessively finding things to pin on Pinterest.
christy@shrinkingkitchen.com :: @reallifeadv :: real-life-adventures.com :: pinning here
TOP 3 FOODS I CAN'T LIVE WITHOUT:
Coffee (it is a food)
Greek Yogurt
Apples
Cheese
TOP 3 KITCHEN GADGETS:
KitchenAid Mixer
Pampered Chef micro-steamer
My Grandma's cast iron skillet
Elayne
Elayne has been a Landscape Designer, Horticulturist and Garden Coach for 20 years. She loves incorporating edibles into her garden designs utilizing not only their culinary attributes, but also their fragrance, texture and color! Edibles are beautiful in their own right and can have a place in any garden setting. As an avid cook, gardener and nature lover, Elayne has become increasingly interested in blending her experience in growing her own food with creating and experimenting with interesting new and healthy recipes. Having been naturally thin her whole life, Elayne has discovered the downside to "going through the change". With Menopause comes weight gain, especially in the middle and a slowing metabolism that suddenly limits the portion size and types of meals she can now consume. Instead of giving up, she is now determined to cook differently, using more whole, fresh and organic ingredients that can add lots of flavor without a lot of fat or calories. It is a struggle indeed when you are an active hiker, kayaker and gardener who used to be able to eat anything, to give up her sweet tooth, good wine and favorite high calorie meals that fueled her workouts. Elayne is determined to create a balance in her cooking of great food, fine wine and love of ice cream with smart choices and using more fruits, vegetables and herbs in her recipes. Elayne lives in the Seattle area of Washington State where she grills outdoors year-round and can garden nearly 10 months of the year!
TOP 3 FOODS I CAN'T LIVE WITHOUT
Ice Cream
Cheese (anything dairy, really)
Watermelon
TOP 3 KITCHEN GADGETS
Kitchenaid Mixer
Mini-Cuisinart
Immersion Blender
Zoy
I am from Round Rock, Texas and have been a stay-at-home mom to my 14 year old daughter (Kiley) for 12 years. I am also a stepmom to Mike and step grandmother to Austin, Krista and Lilly. I love taking care of my family.
I am about to turn 50 in December 2013 which is somewhat surreal to me. I have tried to stay active through boot camp, tap dancing and walking since food is such a significant part of my life.
My love for food goes way back to my childhood. For as long as I can remember, food prepared with love whether for a special occasion or just everyday has been a part of my life…from watching my mother prepare our family meals, to taking a hot meal to my dad who was working the evening shift at the bus station, to entering a baking competition when I was in 1st grade, to the enormous spreads at my family's many reunions, weddings and holidays. But probably the most memorable moments were being elbow deep in fresh bread dough at my maternal grandmother's house or picking the perfect antique apron to assist my paternal grandmother in baking an angel food cake or preparing supper for the family.
My mother and two grandmothers showed their families that they loved them through their careful planning and food preparation for the special events and special people in their lives. They showed me that they loved me by including me in this process and allowing me to learn from them. Because of these precious experiences, I am able to carry on this tradition with my family. Now my family knows how much it means to me and how much I love them by my bringing them delicious AND healthy meals.
I love adding flavor to the meals I prepare by reducing liquids to enhance the flavor, adding herbs and spices and using seasonal ingredients…the more color, the better!!! Food is so much more than just sustenance to me; it feeds more than just the body, it is therapy for my soul.
TOP 3 KITCHEN GADGETS:
chef's knife
paring knife
cutting board
Amanda
Amanda is a world-traveling mom of two boys.  She currently lives in Marrakech, Morocco with her sons aged 6 and 9 and her husband. Amanda is a recipe developer, social media marketer, and writer. Amanda writes about the food of her adopted country, travel, and raising bi-cultural kids at 
www.marocmama.com
Food has always been a focus in her life.  In 2012 Amanda underwent gastric sleeve surgery to help her get her weight under control. Her husband was diagnosed with celiac disease only a few months before her surgery.  These two events caused her to completely re-think the foods that were commonplace in her kitchen.These changes haven't meant restrictions or a lesser quality of life – it's just meant creativity and a lot of experimentation!
Amanda has three goals she hopes people take away from her kitchen; 1) engage in food democracy, or the sharing of food as a means to help people of different cultures "come to the table", 2)  provide delicious options for those on restricted diets, 3) enjoy time with family and friends!
Top 3 Foods I Can't Live Without
1) Cheese
2) Olives
3) Pineapple
Top 3 Kitchen Gadgets
1) Silpat
2) Stand Mixer
3) Cherry/Olive Pitter