Hello everyone! Hope this Sunday finds you well!
Are you ready to Menu Plan Your Butt Off? I think this week's meals look incredible, if I do say so myself. We've got a couple of vegetarian meals, some fresh and delicious salads and even slow cooker comfort favorite!
If you're new to Shrinking Kitchen, first of all, welcome! We're glad you're here! Second – we share a new free Menu Plan Your Butt Off every single week. Even when I'm on vacation!
If this menu plan isn't full of stuff you love, head on over to our archives where we've got over a year's worth of healthy menu plans! You're sure to meet your perfect menu match.
With that, have a beautiful day and happy cooking (and eating)!
Weekly Healthy Menu Plan
Monday:  Beany & Cheesy Quinoa Bake with green salad.

Tuesday: Slow Cooker Creamy Ranch Chicken over whole wheat spaghetti with steamed green beans.
Wednesday: Grilled Salmon Nicoise Salad.

Thursday: Cool Avocado Basil Pasta with green salad.

Friday: GO OUT!!!
Saturday: Mexi-Cobb Salad

Sunday:Artichoke Quinoa Salad served with a side of melon and berries.

For Dessert: Guilt Free Chocolate Chip Cookies

GROCERY LIST
Beany & Cheesy Quinoa Bake
1 cup dry quinoa
1 15 ounce can black beans, drained and rinsed
1 15 ounce can white beans, drained and rinsed
1 sweet potato, grated (about 2 cups)
1 can Rotel, with juices
3/4 cup grated cheddar cheese
1 tablespoon cumin
2 eggs
head of your favorite leafy green and salad fixings
 Slow Cooker Creamy Ranch Chicken
1/4 teaspoon paprika
2 pounds of chicken breasts (or thighs) – approximately 6 chicken breasts
1 packet of Simply Organic ranch dip. mix (the powdered stuff)
1/2 cup low-sodium (or organic) chicken broth
1/2 teaspoon oregano
1/3 cup half & half (could use fat free)
2 teaspoons cornstarch
3 ounces reduced-fat cream cheese
whole wheat spaghetti
1 pound fresh green beans
Grilled Salmon Nicoise Salad
12 ounces fresh salmon fillets (4 ounce fillets), skin on
2 yukon gold potatoes, boiled and cooled
2 hardboiled eggs
1 pound fresh green beans
12 kalamata olives
2 tomatoes, diced
8 cups arugula or your favorite leafy green
juice of 1/2 lemon
1 tablespoon fresh dill, finely chopped
1 clove garlic, crushed and finely minced
Cool Avocado Basil Pasta
1 12-oz box whole wheat spaghetti (or the whole wheat pasta of your choice)
1 cup store bought pesto
2 avocados, halved and pitted
1 tablespoon lime juice, or juice of 1/2 lime
head of green, leafy lettuce and salad fixings of your choice
Mexi-Cobb Salad
8 ounce bag or container of spring mix lettuce with spinach
1 cup canned kidney beans
15 ounces canned corn, drained (or 2 cups frozen, thawed; or 3 fresh cobbs)
1 avocado, diced
1 red bell pepper
2 1/4 ounce can of sliced black olives
1/2 pound, lean ground beef
1 tbsp dry mix taco seasoning
1 cup cherry tomatoes, sliced in half
1/2 cup salsa
2 tablespoons light sour cream
Artichoke Quinoa Salad with Lemon Basil Dressing
1 cup quinoa
1 – 14 ounce can artichokes in water
1 bell pepper, any color
8 ounces cherry or grape tomatoes
1/3 cup lemon olive oil, or regular olive oil plus some lemon zest
1/4 cup red wine vinegar
1/2 cup crumbled feta
big handful fresh basil
1 pound of your favorite berries
1 melon of your choice
Guilt Free Chocolate Chip Cookies
3/4 cup packed brown sugar
3/4 cup trans fat free soft tub margarine spread
2 large egg whites
2 teaspoons vanilla extract
1 15 ounce can chickpeas
1 cup semisweet chocolate chips
1 cup all purpose flour
1 cup whole wheat flour
1/2 cup rolled oats
1 teaspoon baking soda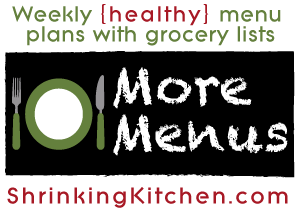 find more menu plans here!
Advertisement