It's Sunday…the day of rest. So the last thing you probably want to do today is plan your dinners for the week then venture out to the market.  Am I right? Well, I can help. Not with the actual shopping or cooking. But with the planning.
Yeah, I can totally help with that.
Welcome to Menu Plan Your Butt Off, where we take the guesswork out of planning healthful meals! Each week we painstakingly plot out a healthy menu plan of dinners and a bonus dessert (because we all need at LEAST one dessert a week) so you don't have to!  Even better? There's a printable grocery list. So all you have to do is print up the list, trot off to the store and you're set.
So what are you waiting for? Have a look at all the deliciousness! If this menu isn't your thing, we have a huge archive of  healthy menu plans over here, so you're sure to find something to suit your palate.
With that, I bid you adieu…and happy cooking! See you next week!
*****
Weekly Healthy Menu Plan
Monday: Portobello Lime Breakfast Tacos – breakfast for dinner! Serve with fresh melon.

Tuesday: Spicy Italian Sausage with Squash and Shells.

Wednesday: Curry Yogurt Grilled Chicken on a pita with a smear of store bought hummus, fresh cucumbers, tomato and lettuce. 

Thursday: Slow Cooker Italian Turkey Meatballs with whole wheat spaghetti and steamed broccoli.

Friday: GO OUT!!!
Saturday: Garlic Ginger Prawn Skewers with brown rice.

Sunday: Crispy Quinoa Patties over a bed of leafy greens with avocado, tomatoes, shredded cheese and your favorite salsa.

/
For Dessert: Chocolate Coconut Chia Pudding
GROCERY LIST
Portobello Lime Breakfast Tacos
8 small taco sized tortillas (we used corn)
2 portobello mushrooms
1 red bell pepper
1 yellow onion
2 cloves garlic
1 avocado
2 limes
4 eggs
1 tablespoon of dried oregano/ 1/2 tablespoon if using fresh
1 tablespoon unflavored milk – any milk you like – almond, hemp, cow
1 melon of your choice
 Spicy Italian Sausage with Squash and Shells
4 links spicy Italian chicken or turkey sausage (casings removed)
1 medium onion
2 ribs celery
2 carrots
2 yellow summer squash
2 zucchini squash diced
½ cup vegetable or chicken stock
¾ to 1 cup grated Parmesan cheese
1-2 tablespoons chopped parsley or basil to garnish
1 lbs. whole wheat pasta shells
Curry-Yogurt Grilled Chicken
1 pound chicken breasts, sliced lengthwise into strips
1 cup fat free plain Greek yogurt
1 garlic clove, finely minced
1/2 tablespoon of grated fresh ginger
1 tablespoon curry powder
1/4 teaspoon cayenne pepper
juice of 1 lemon
package of whole wheat pita bread
container of plain hummus
1 english cucumber
1 pint cherry or grape tomatoes
leafy green lettuce of your choice
Slow Cooker Italian Turkey Meatballs
20 oz (1.3 lb) ground turkey breast 93% lean
1/4 cup whole wheat seasoned breadcrumbs
1/4 cup Parmigiano Reggiano cheese, grated
1/4 cup parsley
1 egg
1 large clove garlic
4 cloves garlic
28 oz cans crushed tomatoes
1 bay leaf
1/4 cup fresh chopped basil or parsley
1 large head broccoli
1 package whole what spaghetti
Garlic Ginger Prawn Skewers
1 lb large raw shrimp or prawns (not frozen!)
1 lb your favorite mushrooms
2-3 medium Zucchini
3 tsp crushed garlic
1-2 tsp fresh grated ginger
2 Tbsp raw honey
brown rice
Crispy Quinoa Patties
1/2 cup dry quinoa
1 cup canned low sodium black beans
1 cup panko bread crumbs
1 egg
1/3 cup salsa
1 teaspoon cumin
1/2 teaspoon chipotle powder
bunch or bag of your favorite leafy greens (arugula or baby greens are perfect)
pint of cherry tomatoes
1 avocado
1/2 cup shredded cheddar
jar of your favorite salsa
Chocolate Coconut Chia Pudding
Please note this is for one serving only, adjust accordingly
1 cup plain coconut or almond milk
1 teaspoon cocoa
1 teaspoon raw honey
1 tablespoon unsweetened shredded coconut
2 tablespoons chia seeds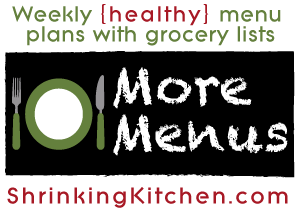 find more menu plans here!