My husband took this week of and had a bit of a staycation…lots of fun, but boy oh boy, our schedule is WAY off. In a good way, mostly…as in, I've been grocery shopping by myself. I had a pedicure. So come Monday, the kids and I will be back to the regular grind. Ahhh, reality.
Reality, where I need to cook, by myself, every night.  Sniff.
Luckily, I have my handy dandy healthy menu plan ready and raring to go…and I'm sharing with you. I'm so excited to try Christy's Slow Cooker BBQ Pulled Chicken and Elayne's Very Cherry Relish with some simply grilled flank steak! Yum!
And then there's the Almond Joy Faux Soft Serve. You guys? It's awesome. Like, kind of life changing in if you're a slave to the ice cream like I am.
If this menu plan isn't full of stuff you love, head on over to our archives where we've got over a year's worth of healthy menu plans! You're sure to meet your perfect menu match.
One more thing…we've got a little giveaway going on for some fun products from Barlean's over here…go enter! It's quick and easy.
With that, have a beautiful day and happy cooking (and eating)!
Weekly Healthy Menu Plan
Monday: Rainbow Salad with Tahini Lime Dressing with store bought whole grain rolls.

Tuesday: Slow Cooker BBQ Beer Pulled Chicken on whole wheat buns served with melon.

Wednesday: Tex Mex Goulash

Thursday: Peanut Noodles with Chicken served with steamed sugar snap peas.
Friday: GO OUT!!!
Saturday: Pizza Night!  Use our basic pizza crust and add your own healthy toppings! Serve with a green salad.

Sunday: Simply grilled flank steak with Very Cherry Relish and a big arugula salad.

/
For Dessert: Almond Joy Faux Soft Serve
[Print_this]
GROCERY LIST
Rainbow Salad with Tahini Lime Dressing
1 package whole grain rolls
4 cups napa cabbage, thinly sliced
5 radishes, thinly sliced
10 sugar snap peas (or more if you like) cut into strips
1 Persian cucumber or 1/2 English cucumber, cut into matchsticks
2 carrots, peeled and julienned – you can also just use the peeler to create carrot strips
2 tablespoons tahini
1 tablespoon raw honey
1 tablespoon apple cider vinegar
1 lime, juiced
1 clove garlic
 Slow Cooker BBQ Beer Pulled Chicken
1 tbsp onion powder
1 tbsp paprika
2 cloves garlic, minced
1 cup beer
18 ounces barbecue sauce (I used Stubb's all-natural sauce)
1/4 cup water
3 pounds boneless, skinless chicken breasts
whole wheat buns
melon of your choice
Tex-Mex Goulash
1 pound lean ground beef
1 small onion, rough chopped
2 teaspoons olive oil
3 medium russet potatoes, diced into 1-inch cubes
2 teaspoons cumin
1 1/2 teaspoons chili powder
1/2 teaspoons oregano
1/2 teaspoon black pepper
1/4 teaspoon salt
15 ounce can diced tomatoes, no salt added
15 ounce can Whole Kernel Corn, No Salt Added
Peanut Noodles with Chicken
7 oz fat free chicken or vegetable broth
2.5 tbsp light peanut butter
1/2 tbsp Sriracha chili sauce
1 tbsp honey
1 tbsp gluten free soy sauce
1/2 tbsp freshly grated ginger
1 clove garlic, minced
8 oz chicken breast, cut into strips
Salt and pepper, to taste
1/2 tbsp Sriracha chili sauce
Juice of 1/2 lime
2 cloves garlic, crushed
1/2 tbsp freshly grated ginger
1/2 tbsp gluten free soy sauce
1/4 tbsp sesame oil
4 oz rice noodles
1/3 cup green onion, chopped
1/2 cup shredded carrots
1/2 yellow bell pepper, julienned
1/2 red bell pepper, julienned
1 tbsp chopped peanuts
1 pound sugar snap peas
Healthy Pizza Night!
1 1/4 teaspoon active dry yeast
1 cup water, room temperature
1 3/4 cup all purpose white wheat flour
1 cup cake flour
1 1/2 teaspoons salt
2 teaspoons sugar
Pizza toppings of your choice (healthy pizza sauce, low fat mozzerella, vegetables, ham, chicken, olives…just keep it light!)
Bag or head of leafy greens
red pepper, carrots and cucumber
favorite healthy salad dressing (or vinegar and olive oil)
Grilled Flank Steak with Very Cherry Relish
1 pound flank steak
1 bag washed arugula or leafy green of your choice
lemon juice and olive oil for simple salad dressing
1 pound Bing Cherries, stemmed and pitted, chopped into small pieces
2 teaspoons minced shallots (or red onion)
2 teaspoons lemon juice (fresh is best)
1 teaspoon Balsamic vinegar
1 teaspoon chopped and minced fresh basil and parsley combined – if using dry herbs, use 1/2 teaspoon
Salt and Pepper to taste
2 tablespoons finely chopped yellow bell pepper
Almond Joy Faux Soft Serve
2 frozen bananas (cut them into chunks before you freeze)
2 tablespoons cocoa powder
2-3 tablespoons unsweetened plain almond milk
2 tablespoons unsweetened shredded coconut, divided
2 tablespoons dry roasted almonds, chopped
[/print_this]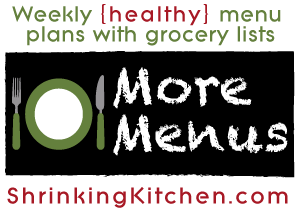 find more menu plans here!
Advertisement