It's Sunday, and that means it's time for a brand new, healthy AND FREE Menu Plan Your Butt Off. That's right! We plan, you print out the grocery list, shop and you're set with a full week of healthy dinners! Trust me, you'll be glad you took the time to read, check out the recipes and do a little pre-planning when Wednesday hits you smack in the face and you don't have the time or energy to plan a meal.
Menu Plan Your Butt Off helps me, and I hope it's helping you, too!  If you're new to Shrinking Kitchen, first of all, welcome! We're glad you're here! Second – we share a new Menu Plan Your Butt Off every single week. I know! Awesome!
If this menu plan isn't full of stuff you love, head on over to our archives where we've got over a year's worth of healthy menu plans! You're sure to meet your perfect menu match.
With that, have a beautiful day and happy cooking (and eating)!
Weekly Healthy Menu Plan
Monday: Olives & Farro Salad with a green salad.

Tuesday: Crock Pot Savory Asian Meatballs with brown rice and steamed asparagus.

Wednesday: Quinoa & Beef Stuffed Bell Peppers with a big green salad.

Thursday: Sausage, Beans & Greens Soup with crusty whole grain baugette

Friday: GO OUT!!!
Saturday: Chicken Tagine with Potatoes & Peas
Sunday: Mediterranean Pasta Toss.

/
For Breakfast: Simple Blueberry Coffee Cake
For Winter Olympic Viewing:  Skinny Taco Dip with jicama sticks, baked tortilla chips and sliced cucumbers

GROCERY LIST
Olives & Farro Salad
8 oz. Quick Cooking Farro
1 cup chopped walnuts (or seeds)
2 cups pitted Kalamata olives or green olive mix
4 scallions
½ cup of golden raisins
½ teaspoon red pepper flakes
2 tablespoons fresh lemon juice
1 tablespoon honey
¼ cup shaved Manchego cheese
head of leafy green lettuce and salad fixings of your choice
Crock Pot Savory Asian Meatballs
1 1/2 lbs lean ground beef or pork
3/4 cup panko bread crumbs
2 eggs, lightly beaten
3 green onions, sliced, plus more for serving
2 tablespoons finely chopped fresh ginger root
1 tablespoon diced onion
1 teaspoon Chinese five-spice powder
1 tablespoon reduced-sodium soy sauce
1 cup low-sodium beef or chicken broth
1/2 cup ketchup
1 8-oz can tomato sauce
3 tablespoons rice vinegar
brown rice
1 pound fresh asparagus spears
Quinoa & Beef Stuffed Peppers
1 cup of raw quinoa, cooked according to package
1/2 pound of lean ground beef
4 green bell peppers
1 teaspoon olive oil
1/2 yellow onion
2 carrots, peeled and diced
1 teaspoon of dried basil
1 teaspoon of dried oregano
1/4 teaspoon salt
1/2 teaspoon pepper
1 15 ounce can of tomato sauce
1 head leafy green lettuce and your choice of fresh veggies for your salad
Sausage, Beans & Greens Soup
1 tablespoon olive oil
2 chicken sausages (I used Aidell's Chicken & Apple)
1 medium onion
2 cloves garlic, peeled
1 large stalk celery
3 cups low sodium chicken broth
3 cups water
1 large bunch kale
1 can great northern beans
1/2 teaspoon smoked paprika
pinch red pepper flake
whole grain baguette (pop in the freezer till you need it!)
Chicken Tagine with Potatoes & Peas
1 medium onion chopped finely
2 cloves of fresh garlic, minced
½ teaspoon fresh grated ginger
2 tablespoons vegetable oil
palmful of flat-leaf parsley, finely chopped
1 teaspoon black pepper
2 teaspoon cumin
½ teaspoon salt
8-10 threads of saffron, crushed
1 teaspoon turmeric
Fingerling potatoes, cut in half – enough to fill bottom of the pot
3-4 chicken breasts skin removed
1/2 preserved lemon (if you don't have a preserved lemon, increase the salt by ¼ tsp, and use the juice of a ½ fresh lemon)
1/2 cup shelled fresh green peas
Mediterranean Pasta Toss
2 small zucchini
10 small sweet bell peppers
1 cup grape or cherry tomatoes
1/2 yellow onion,
2 cloves garlic
1 tablespoon dried Italian herbs
1 15 ounce artichoke hearts in water, drained and sliced in half
1/4 cup sundried tomatoes in oil
1/3 cup balsamic vinegar
1 1/2 cups dry whole wheat penne
1/3 cup crumbled feta cheese
Simple Blueberry Coffee Cake
1/3 cup organic cane sugar
4 tablespoons butter substitute (I use Earth Balance)
1 flax egg (1 tablespoon flax meal + 3 tablespoons water, set in fridge)
1/2 cup 2% milk
1 tsp pure vanilla extract
2 cups unbleached all-purpose flour
2 tsp baking powder
2 cups blueberries
Topping (optional):
1/4 cup organic cane sugar
1/2 cup all-purpose flour
1 1/2 tsp cinnamon
1 tsp lemon juice
4 tablespoons butter substitute
Skinny Taco Dip
1 can fat free refried beans
4 ounces lowfat sour cream
4 ounces fat free plain greek yogurt
1 tablespoon taco seasoning
4 ounces lowfat shredded Mexican cheese blend
2 small avocados
juice of 1/2 lime
1/2 teaspoon cumin
1/2 teaspoon garlic powder
1 large tomato
handful cilantro
jicama
1 English cucumber
1 bag baked tortilla chips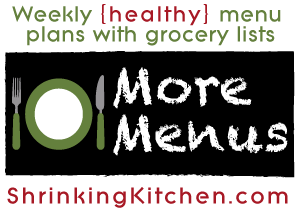 find more menu plans here!
Advertisement