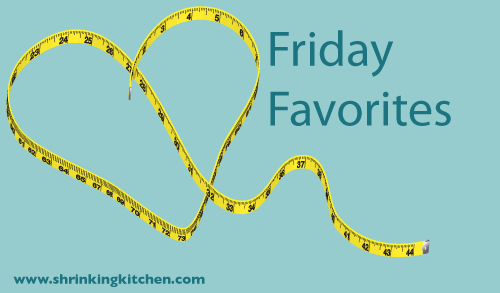 Here in the Shrinking Kitchen, we have all kinds of favorites- favorite cookbook, cooking gadgets, cooking tips, organizational tips, magazines, food blogs, appliances, recipes, you get the idea…
We figured it would be fun to share with you our favorites and in turn, you could share with US one of YOUR favorites. We are always open to learning and trying new things.
This week, I want to talk about ginger. Specifically, using jarred powdered ginger in recipes even if it calls for fresh because it's more convenient or you're just intimidated by fresh ginger root.
Stop it. Just stop. Fresh ginger is super simple to work with and it tastes so much better than the powder. Trust me on this and try this tip for storing fresh ginger:
You can freeze whole chunks of ginger, and grate it frozen into any recipe calling for ginger. Just throw the ginger root into a freezer safe bag and make sure you press all the air out while sealing.
See, I told you it was simple! Plus, it'll save you money. You can get a piece of fresh ginger for pocket change.
Do you have any fabulous tips? Share in the comment section!