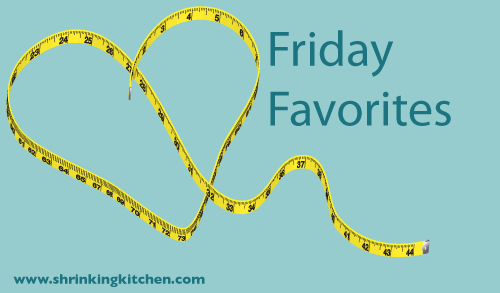 Here in the Shrinking Kitchen, we ladies have all kinds of favorites- favorite cookbook, cooking gadgets, cooking tips, organizational tips, magazines, food blogs, appliances, recipes, you get the idea…
We figured it would be fun to share with you our favorites and in turn, you could share with US one of YOUR favorites.  We are always open to learning and trying new things.
Today, I want to share with you one of my new favorite cooking tips.  A high school friend of mine let me know about this and a lightbulb went off. Why didn't I ever think about this before?! I have bottles of pure honey from my Grandpa's farm sitting in my pantry not being used! My tip:
When a baking recipe calls for granulated or refined sugar, replace it with honey instead! Generally speaking, you for every 1 cup of sugar, use only 3/4 cup of honey and reduce other liquids in your recipe by 1/2 cup for every cup of honey used. Lower the baking temperature by 20-25 degrees to prevent over-browning. Adding 1/8 tsp baking soda is recommended for baking.
Example: In this Strawberry Yogurt Muffin recipe, I ditched the sugar, added 1/4 C honey, 1/8 tsp more baking soda, reduced the yogurt to just 1 cup and lowered the cooking temp to 385 and cooked for about 14 minutes. FANFREAKINGTASTIC!
Now it's your turn: share your favorite kitchen tip in the comments below.