It's strawberry season, and it doesn't last long, so hurry up and get to the local strawberry field, farmers market, or produce stand, and get you some sweetness! Have you ever tasted a strawberry just picked off the bush? There's nothing like it! Strawberries happen to be one of our favorite fruits here at the Shrinking Kitchen. They are so delicious and versatile. Eat them straight out the of the carton, bake with them, toss them in a salad, blend them up, dip them, or roast them. You can't go wrong.
Did you realize that local strawberry season only has a 3-4 week harvest time, and all the other strawberries you see in the market at other times come from other countries and are bred for shipping? Locally grown strawberries are sweeter and juicier!
Fresh strawberries (facts and buying tips):
A one cup (8-10 medium strawberries) serving has only 45 calories and 7 grams of sugars, but gives you 140% of your recommended daily allowance of vitamin C and 7 grams of fiber.
Once strawberries have been picked, the do not ripen further, which means they start to rot quickly. Make sure to choose fully red berries with fresh green caps. If it's green, it will not be ripe and it will not ripen!
Use your nose when shopping – find the sweetest smelling berries and you won't be disappointed.
Eat fresh strawberries as soon as possible!
Store in the fridge in a colander uncovered until ready to eat.
For best flavor, do not wash until you're ready to eat.
If you can't eat them fast enough, clean them, remove their caps, place them on a cookie sheet in the freezer until frozen, and then store in a freezer bag. Frozen berries are great with yogurt and in smoothies.
Strawberries are members of the rose family.
Skinny strawberry recipes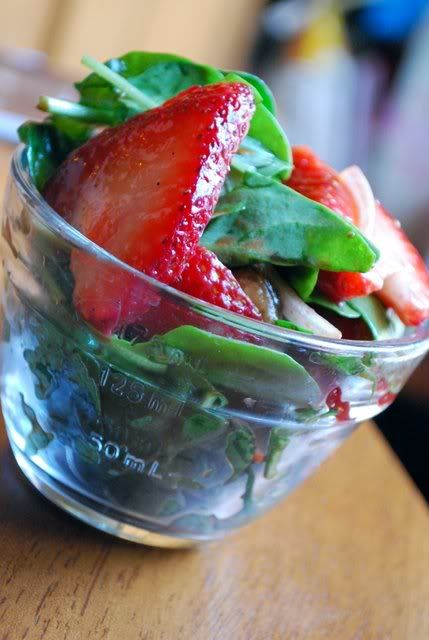 What is your favorite way to eat fresh strawberries?