Hello lovely readers! How are you this fine Sunday?
Are you ready to Menu Plan Your Butt Off? I think this week's meals look incredible, if I do say so myself. Lots of great, familiar comfort food, but also a few meals that may stretch your taste buds – deliciously. Personally, I like to make it a point to try something new every week. A new fruit, veggie, spice – or a completely new recipe.  I encourage you all to give it a go!
If you're new to Shrinking Kitchen, first of all, welcome! We're glad you're here! Second – we share a new free Menu Plan Your Butt Off every single week. Even when I'm on vacation!
If this menu plan isn't full of stuff you love, head on over to our archives where we've got over a year's worth of healthy menu plans! You're sure to meet your perfect menu match.
With that, have a beautiful day and happy cooking (and eating)!
Weekly Healthy Menu Plan
Monday (Cinco de Mayo):  Slow Cooker Salsa Verde Chicken over brown rice.

Tuesday: Shrimp Zoy over whole wheat spaghetti with a big green salad.
Wednesday: Kale Smashed Potatoes with Chicken Sausage served with steamed green beans

Thursday: One Pot Chicken & Lentils

Friday: GO OUT!!!
Saturday: Mexi-Cobb Salad

Sunday: Simple Tomato Ricotta Pasta

For Dessert: Guilt Free Chocolate Chip Cookies

 For Breakfast: Cocoa Hazelnut Oatmeal
GROCERY LIST
Shrimp Zoy
3 tablespoons unsalted butter
1 ½ pounds peeled/deveined shrimp
2 tablespoons minced shallots
1 clove minced garlic
¼ cup chicken stock
2 tablespoons lemon juice
1 tablespoon Dijon mustard
½ cup white wine
¼ cup heavy cream
1 tablespoon chopped fresh flat leaf parsley
package whole wheat spaghetti
head of your favorite leafy green and salad fixings
 Slow Cooker Salsa Verde Chicken
6 boneless chicken breasts (4 oz each)
1 medium onion sliced
2 cloves garlic, minced
1 tsp cumin
1 tsp oregano
1 Tbs lime juice
1 16 oz jar salsa verde (whatever brand you like, I've used Herdez and Trader Joe's)
1 can white beans(I like great northern beans)
1 1/2 cup low fat or fat free sour cream ( you can also sub in plain fat free yogurt)
brown rice (either traditional or fast cooking)
Kale Smashed Potatoes with Chicken Sausage
4 lowfat chicken sausages
4 yukon gold potatoes
8 ounces kale, roughly chopped, or use frozen kale
2 green onions, diced
2 ounces lowfat shredded cheddar
1 ounce light cream cheese
1/3 cup lowfat milk
1 pound fresh green beans
One Pot Chicken & Lentils
3 slices of lean bacon
1/3 cup green bell pepper
1/3 cup carrots
1/3 cup celery
½ cup onion
1 clove garlic
6 6-8 ounce boneless skinless chicken thighs or breasts
½ cup low sodium chicken stock
1 15 ounce can of lentils un-drained
2 ears fresh sweet corn cut off the cob
2 tablespoons chopped fresh parsley
Mexi-Cobb Salad
8 ounce bag or container of spring mix lettuce with spinach
1 cup canned kidney beans
15 ounces canned corn, drained (or 2 cups frozen, thawed; or 3 fresh cobbs)
1 avocado, diced
1 red bell pepper
2 1/4 ounce can of sliced black olives
1/2 pound, lean ground beef
1 tbsp dry mix taco seasoning
1 cup cherry tomatoes, sliced in half
1/2 cup salsa
2 tablespoons light sour cream
Simple Tomato Ricotta Pasta
1/8 cup olive oil
1/2 small onion, finely chopped
1 clove garlic, grated or microplaned
6 campari or plum tomatoes, diced
1 tsp dried Italian herbs
8 oz part skim ricotta
8 oz dried whole wheat pasta – bowties and penne work well
1/8 cup shredded parmesan, plus extra for serving
1 head of leafy green lettuce & your favorite salad fixings
Guilt Free Chocolate Chip Cookies
3/4 cup packed brown sugar
3/4 cup trans fat free soft tub margarine spread
2 large egg whites
2 teaspoons vanilla extract
1 15 ounce can chickpeas
1 cup semisweet chocolate chips
1 cup all purpose flour
1 cup whole wheat flour
1/2 cup rolled oats
1 teaspoon baking soda
Cocoa Hazelnut Oatmeal 
(please not the recipe is for 1 serving – I've quadrupled the ingredients here so you can serve 4)
1 1/3 cup hazelnuts
8 teaspoons cocoa powder
1 teaspoon cinnamon
4 cups of plain unsweeetened almond milk
1 1/3 cup quick cooking oats
4 heaping teaspoons honey (optional)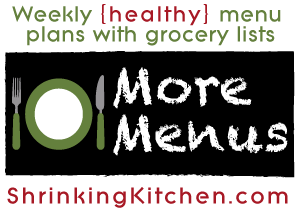 find more menu plans here!
Advertisement